Korea, North : Country Review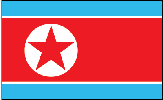 Country Details
---
Largest Cities
| City | Population |
| --- | --- |
| Hamhung | 599,056 |
| Nampo | 455,000 |
| Pyongyang | 3,222,000 |
Country Overview

NORTH KOREA

Japan annexed Korea as part of its empire in 1910 after it won the Sino-Japanese War in 1894-95 and Russo-Japanese War in 1904-05. Korea had been under the Japanese control until the end of World War II in 1945. The surrender of Japan in August 1945 led to the immediate division of Korea into two occupation zones, with the United States administering the southern half of the peninsula and the Soviet Union taking over the area to the north of the 38th parallel. This division was meant to be temporary until the United States, United Kingdom, the Soviet Union, and China could arrange a trusteeship administration. But initial hopes for a unified Korea quickly evaporated as the politics of the Cold War and domestic opposition to the trusteeship plan resulted in the 1948 establishment of two separate nations: the Republic of Korea in the South and the Democratic People's Republic of Korea in the north. Both governments claimed the peninsula, and relations became strained. After several border clashes, North Korean troops invaded the south in June 1950, which started the Korean War that lasted for three years. An armistice ended the war in 1953, but a permanent peace treaty has never been signed.

After the Korean War, North Korea adopted a policy of diplomatic and economic self-reliance as a check against outside influence. As such, North Korea is one of the world's most centrally-planned and isolated economies. Decades of the rigid state-controlled system and adherence to the philosophy of self-reliance have destroyed the country's economy, and large scale military spending has eaten into resources needed for investment and consumer industries. The country suffers from chronic food shortages caused by natural disasters and economic mismanagement. Since the mid-1990s, North Korea has been dependent on foreign aid to feed millions of its people.
In July 2006, North Korea test fired a number of short-range missiles. Diplomatic efforts aimed to rein in North Korea's nuclear ambitions, and North Korea agreed to abandon its nuclear ambitions in return for aid. It shut down the Yongbyon nuclear reactor in July 2007. But tensions between North Korea and the rest of the world have again increased steadily since 2008. The leadership by the highly flamboyant and volatile Kim Jong-il have been cause for concern as regards global security. His death in 2011 and succession by the even more flamboyant and volatile Kim Jong-un has done nothing to quiet the fears of the rest of the global community about North Korea's threat to global security.

Editor's Note on North Korea's Nuclear Test History:

In October 2006, North Korea said it intended to test a nuclear weapon. Despite strenuous urging by the international community, including China, that North Korea not follow this course, North Korea carried out a test of a nuclear weapon. The international community responded to North Korea's announcement with widespread condemnation and a punitive United Nations Security Council resolution endorsing financial and security sanctions.

Resolution 1718 called for the inspections on cargo going to and from North Korea to search for weapons, a ban on the sale or transfer of materials related to North Korea's unconventional weapons program, and a freeze on the transfer of funds connected with North Korea's nuclear and ballistic missile programs. The resolution was passed under Chapter Seven, Article 41, of the United Nations Charter; however, absent from Resolution 1718 was the Chapter Seven provision that would enforce the sanctions via military force. For its part, the North Korean government in Pyongyang decried Resolution 1718, and warned that subsequent pressure by the United States would be regarded as "a declaration of war."

April 2009 saw North Korea take provocative action by launching a communications satellite into space via rocket. That claim was widely viewed as obfuscation of a missile test. Then a month later in May 2009, less than three years after the earlier underground nuclear test, North Korea conducted a second such test, arguing the merits of its right to a military deterrent. Days later, North Korea announced its withdrawal from the armistice that ended the Korean War.

At the international level, the United Nations Security Council noted that the 2009 nuclear test by North Korea was a violation of Security Council Resolution 1718, which prohibits Pyongyang from carrying out nuclear tests. In response, the United Nations Security Council unanimously adopted Resolution 1874 in June 2009 -- a month after the underground nuclear test. The resolution was passed under Chapter Seven, Article 41, of the United Nations Charter, and imposed further economic and commercial sanctions on North Korea. Additionally, it encouraged United Nations member states to search North Korean cargo in the effort to enforce those sanctions.

It should be noted that the nuclear tests in 2006 and 2009 constituted unassailable violations of United Nations Security Council Resolutions 1718 and 1874, which exist in tandem with Article 41 of Chapter VII of the United Nations Charter and compel compliance by all member states. They are binding under international law. The 2006 and 2009 nuclear tests were also breaches of the Comprehensive Nuclear Test Ban Treaty. The apparent nuclear test on Feb. 12, 2013 would also stand as a flagrant violation of that treaty.

In March 2013, the United Nations Security Council unanimously adopted Resolution 2094 censuring North Korea for its February nuclear test and imposing an even stricter sanctions regime on that country. The United Nations Secretary-General Ban Ki-moon said the unanimous adoption of the resolution delivered a strong message to North Korea that its pursuit of nuclear weapons would not be tolerated by the international community. Still, North Korea responded in April 2013 by cutting off its connections with South Korea, ending its armistice, threatening to re-open its Yongbyon nuclear reactor, and issuing brazen threats against South Korea and the United States.

By May 2013, the political climate appeared to have cooled. In June 2013, there was a bizarre mix of progress and retreat on the diplomatic front as the two Koreas planned and then cancelled bilateral negotiations; however, North Korea then proposed direct talks with the United States. In August 2013 through September 2013, the two Koreas finally agreed to re-open operations at the jointly-administered Kaesong industrial zone. But once again, there was a mix of progress and retreat as by September 2013, signs pointed to the fact that operations were being restarted at North Korea's Yongbyon reactor.

The first part of 2014 was marked by a flurry of brazen activity by North Korea in the form of ballistic missile tests, threats of a "new form" nuclear test, and the exchange of fire with South Korean forces in the flashpoint disputed maritime region. Later in 2014, North Korea fired short range missiles on various occasions coinciding with visits to South Korea by world leaders, such as Chinese President Xi Jinping and Pope Francis. In early 2015, with joint military exercises looming between the United States and South Korea, North Korea launched anti-ship missiles from hoverships. North Korea's news agency published images showing the hoverships launching a so-called "cutting-edge anti-ship rocket" that would be used to secure the contested marine border with South Korea.
It was to be seen if these latest moves were acts of belligerence aimed at improving North Korea's negotiating position for the future, or, if they were intended to be blatant and irrational acts of provocation.



Country Forecast
---
| | | | | | |
| --- | --- | --- | --- | --- | --- |
| | 2014 | 2015 | 2016 | 2017 | 2018 |
| Real Gross Domestic Product (LCU billions 2005 base) | 2513.136645 | 2244.165570 | 2247.467633 | 2254.031919 | 2260.615377 |
| Real GDP Growth Rate (%) | 3.306672 | -10.702604 | 0.147139 | 0.292074 | 0.292074 |
| Population, total (million) | 25.116363 | 25.243917 | 25.368620 | 25.497991 | 25.628022 |
| Inflation, GDP Deflator (%) | 1.647889 | 3.747346 | 3.747346 | 3.747346 | 3.747346 |
| Official Exchange Rate (LCU/$US) | 128.000000 | 128.000000 | 128.000000 | 128.000000 | 128.000000 |
| Total Foreign Exchange Reserves ($US billions) | 2.900737 | 2.614890 | 2.706370 | 2.588350 | 2.738744 |
Key Data
---
| | |
| --- | --- |
| Region : | Asia |
| Population : | 25,248,140 (as of 2017) |
| Capital : | Pyongyang |

| | |
| --- | --- |
| Area Total : | 120540 km2 |
| Area Land : | 120410 km2 |
| Coast Line : | 2495 km |

| | |
| --- | --- |
| Climate : | Temperate with rainfall concentrated in summer |
| Languages : | Korean |
| Currency : | 1 Wn = 100 chon |
| Holiday : | DPRK Foundation Day is 9 September (1948), Liberation Day (from Japanese Rule) is 15 August (1945) |
Average Daily Temperature
| | |
| --- | --- |
| January : | 17.70°F |
| July : | 70.70°F |
| Annual Rainfall : | 36.1" |
| | |
Religions
| | |
| --- | --- |
| Buddhism and Confucianism | 0.00 % |
| some Christianity and Chondogyo | 0.00 % |
Country Indexes
Select index to view full results